Launceston

(pop ~96,000) is located on the Tamar River where the North and South Esk Rivers converge. It is Tasmania's second largest population centre, and is an attractive city due to its many parks and gardens, which incorporate European trees such as oaks and elms.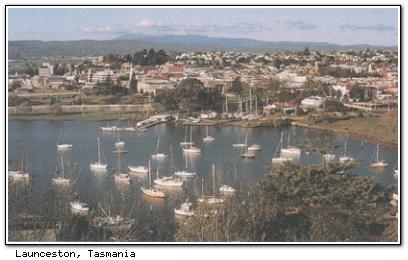 Parks and gardens
The Cataract Gorge Reserve is one of the best parks in Launceston. City Park, established in the 1920's, has a monkey island and the John Hart Conservatory.
Cultural attractions
Royal Park embraces the Queen Victoria Museum and Art Gallery, whose exhibitions include colonial & modern art; Aboriginal and convict artifacts; china and glassware; and flora & fauna exhibits including hands-on areas for children. Royal Park also incorporates the Launceston Planetarium.
The National Automobile Museum of Tasmania has over 40 fully restored classic cars, including some rare ones on loan from overseas. The Waverley Woollen Mills in Launceston are Australia's oldest, and still turn out fine quality garments from Merino wool. The Mills are open to the public. Boags Brewery also has guided tours of its operations.
Historic Launceston
Self-guided walking tours present an excellent opportunity to see not only parks & gardens, but also Launceston's historic buildings. Macquarie House (1830), and the Old Umbrella Shop (1860's) are two examples. The latter, lined with Tasmanian blackwood, is classified by the National Trust. Buildings surrounding Prince's Square and its baroque fountain are worth a stop.
A short drive from Launceston are more historic buildings such as Entally House. Built in 1819, Entally house has fine silverware, Regency furniture, greenhouse, chapel, coach house and stables. Its regarded as the most historic of National Trust houses. Franklin House, south of Launceston, is a Georgian style home built in 1838 and named for Sir John Franklin, Governor of Van Diemens Land (Tasmania). During its life it served as a boys school, and like Entally House, is now classified by the National Trust.
It is hardly surprising to find this amount of history in Launceston, Australia's third oldest city. John Batman planned the city of Melbourne from his residence in Launceston.
Recreation
Somewhat newer is the village of Grindelwald. It is modelled on a Swiss village, houses being built in traditional alpine style. Accommodation and facilities such as a nine hole golf course are provided.
One of the more relaxing activities in Launceston would be a visit to the Aquarius Roman Baths, with their marble facades and statues. In addition to the Tepidarium (warm bath), the Caldarium (hot bath) and Spa Alveus (therapeutic spa), the baths offer massages and a beauty clinic.
The Launceston Country Club Casino, Tasmania's second casino, is on the city outskirts.
Transportation and accommodation
Launceston Airport is located approximately 30 minutes drive south of the city near the historic town of Evandale. There are frequent flights to major mainland cities, including Sydney, Melbourne and Adelaide. Other historic towns a short drive from Launceston include Longford. Launceston's public transport operates regularly throughout the metropolitan area.
Fine accommodation facilities in Launceston are numerous, with seven 4½-star, thirteen 4-star and twenty 3½-star options (RACT rated). There are two backpacker-style operations.
© 1995-2010